It isn't called one of the world's most volatile markets for nothing, though some might argue that or even the these days, deserve that honor more.
Whatever the case, one of the most bewildering market plunges associated with peak demand period for winter heating occurred last week.
In that narrative, futures lost 12% right after the US government reported on Jan. 13 that utilities in the country burnt up the largest amount of gas in almost a year to help keep homes and buildings warm amid freezing temperatures.
What was more perplexing about that tumble was that it came after gas futures on New York's Henry Hub jumped 14% just one day prior, in anticipation of a 173-billion cubic feet (bcf) drawdown from storage forecast by industry analysts for the week ended Jan. 7. Utilities actually did slightly better, drawing down 179 bcf in what was the largest weekly draw since February 2021.
If the Jan. 13 plunge was surprising, consider this: Henry Hub futures tanked 6% yesterday, after forecasters predicted that the US Energy Information Administration will report a 194-bcf drawdown from for last week in the weekly data update it will provide today.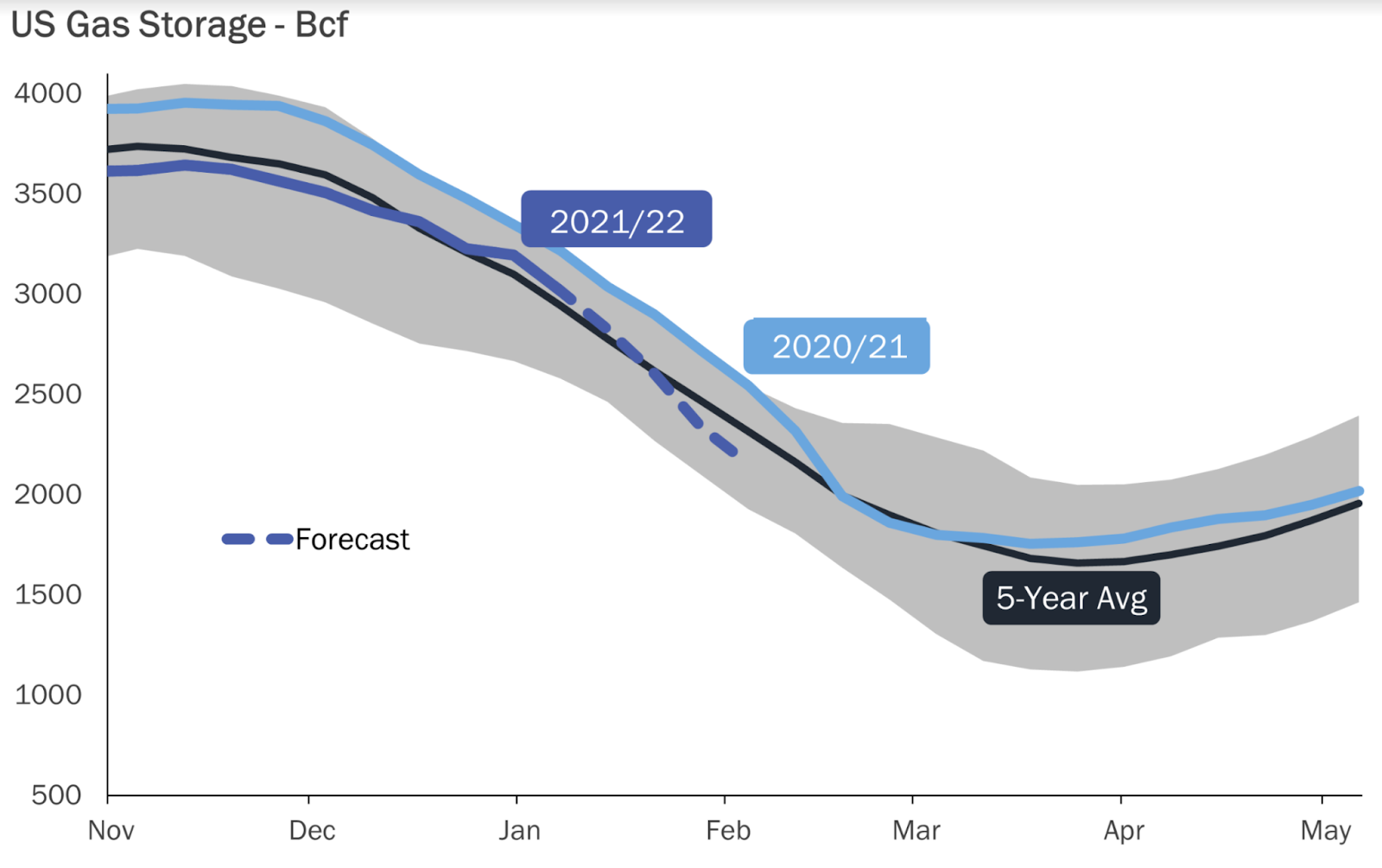 Source: Gelber & Associates
"The vestige of renewed volatility that was sewn into market early this week remains," Dan Myers, analyst at Houston-based gas markets consultancy Gelber & Associates, said in a Jan. 14 note to the firm's clients after the stunning rollercoaster ride that saw a 14% surge one day and a 12% dump the next.
At yesterday's close, Henry Hub's front-month stood at $4.03 per million thermal units, down 17% from the Jan. 12 peak of ​​$4.88.
Sunil Kumar Dixit, chief technical strategist at skcharting.com, said gas prices could be headed a little lower based on chart action, notwithstanding the push higher than storage draws normally provide. The back-and-forth indicates more volatility ahead as Gelber's Myers suggested.
If the 50-week Exponential Moving Average of $3.963 on Henry Hub's spot month holds, a short-term bounce towards the previous week's close of $4.332 and the weekly middle Bollinger Band of $4.750 may be seen, Dixit said.
"But weakness below the 50-week EMA of $3.963 may push gas prices lower towards the horizontal support of $3.68 and the 100-week Simple Moving Average of $3.050," he added.
With colder January weather hitting the US Northeast—the primary market for gas-fired heating in the US—physical gas prices were exploding higher and eventually this will have an impact on Henry Hub futures, said Myers.
"For instance, Iroquois Zone 1 is trading at nearly $10 while Algonquin City-Gates, which is a basis point exposed to the international markets, is trading at $15. For reference, the Henry Hub spot price is currently noted to be $4.48," he said.
The higher physical prices, Myers said, have justified higher Canadian gas imports into the US.
"These basis points work to increase their local supply base in the midst of cold temperatures and higher regional natural gas demand." 
"Canadian imports week-over-week have increased by around 0.7 bcf/daily as a result. Other national natural gas indicators also showed growth—with LNG and Mexican exports increasing by a full bcf over the last week and production also displaying a week-on-week growth of 0.2 bcf per day. In the face of more inclement weather, both supply and demand grew alongside each other."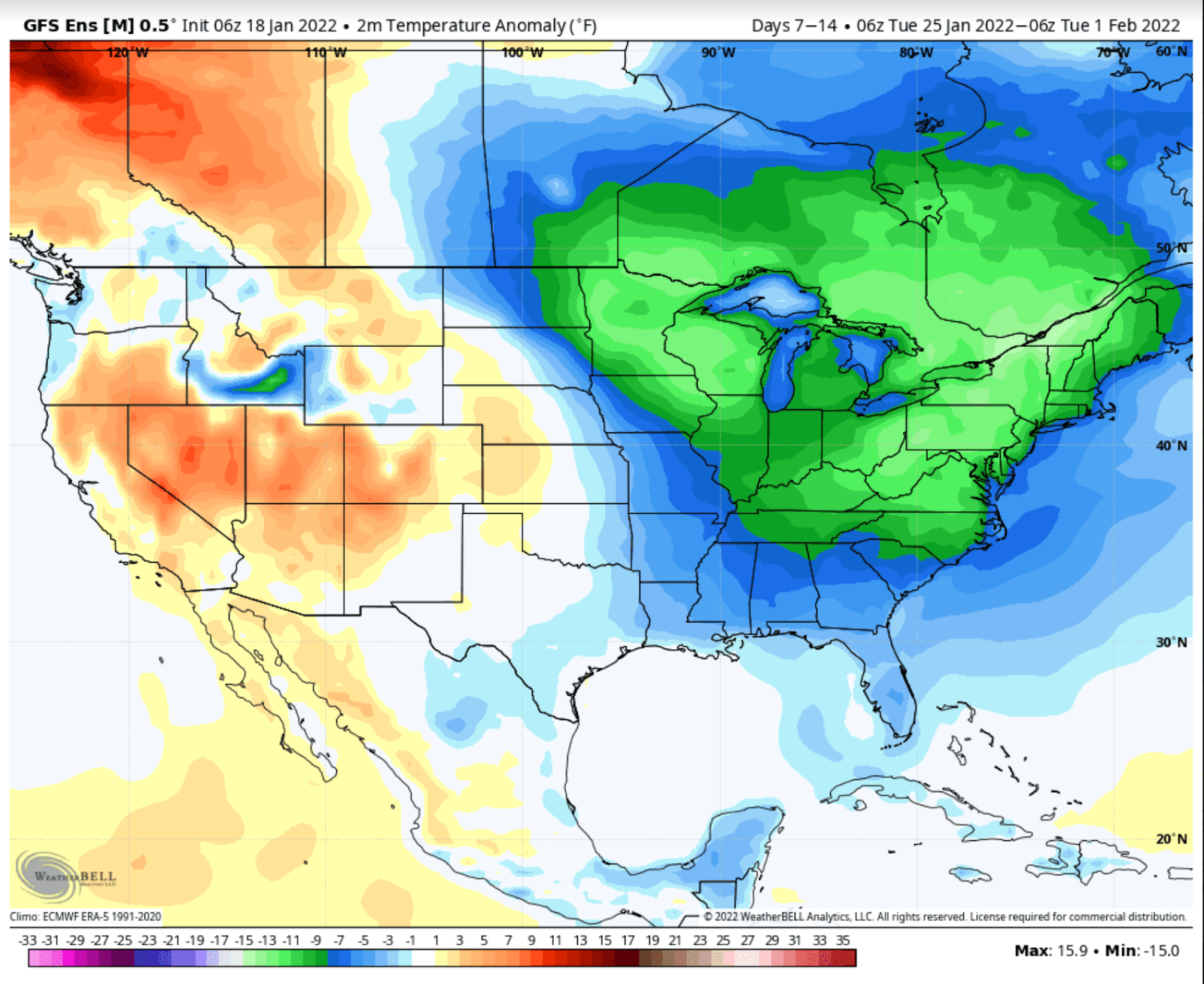 Source: Gelber & Associates
With colder temperatures expected through January, withdrawals were expected to grow in size, with the next two weeks' storage reports offering 200+ bcf withdrawals, Myers said.
"These strong withdrawals are expected to drop 2022 storage below the five-year average and into the underside of the five-year range. An average to mild February will be necessary in order to prevent 2022 storage from increasing the impending deficit between itself and the five-year average," he added.
Forecaster NatGasWeather said the American weather model followed by gas traders was "not quite as cold as Jan. 28-Feb. 2," though it "remained quite cold late this week and again Jan. 26-28 for very strong national demand."
"Both the domestic and European models still forecast the coldest/best 15-day pattern so far this winter season as lows of minus 20s to 20s impact much of the northern two-thirds of the US, including anticipated freeze-offs of several bcf/day to production," NatGasWeather said in a report carried by industry news portal naturalgasintel.com.
It said more disruptions to output or changes in demand could further lower daily supply levels.
"However," added NatGasWeather, "price is king and the natural gas markets are clearly stating they don't view the coming pattern as cold enough to justify" prices near $4.30, a level Henry Hub's prompt month approached on Tuesday.
Disclaimer: Barani Krishnan uses a range of views outside his own to bring diversity to his analysis of any market. For neutrality, he sometimes presents contrarian views and market variables. He does not hold a position in the commodities and securities he writes about.


Read More: Natural Gas: Freezing Cold Or Not, Rollercoaster Prices Are Here